Postcard: You Would Think Terrible Things About Me?
On 2020-05-20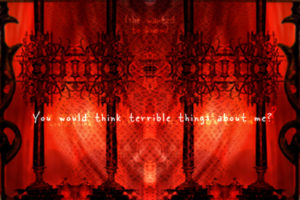 In the early days of our relationship, my wife IM'd the line, "You would think terrible things about me?" It so perfectly captured what I was learning about her personality and thought processes that I had to do something with it.
In those days I was doing a lot of sketching in the format of 4×6″ postcards. One of the things I was trying to accomplish with them was to juxtapose text and image — seemingly, initially unrelated to one-another — in such a way that let the viewer create their own connection between the two layers.
What does it mean? You decide.