DVD menu: Witchboard IV
On 2020-05-20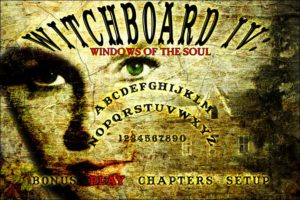 Another DVD menu sample.
The Witchboard movies (there are three, I think) really exist. Though I've not seen any of them, I know they have to do with Ouija boards and such.
I'd just found a terrific font called "Captain Howdy" and was itching for something to try it out on. It seemed a perfect fit for a Ouija-themed image, and the Witchboard series grew by one…
The textural sources were mostly provided, with kind consent, by Chris Smart. The model's face was likely found via Usenet.